Fitness professionals know that an athlete's nutritional plan and choice of fuel is directly related to performance levels, and ultimately the level of success they achieve. This is true for professional and amateur athletes alike; across all types of sports and activities. Active individuals want to know that a product can deliver consistent results, time and again. Having consistent energy from the fuel you choose gives an added edge to be able to score the winning goal, win the race, or just get you to the finish line with energy to spare. SoLo delivers by providing long-term energy, while tasting great at the same time.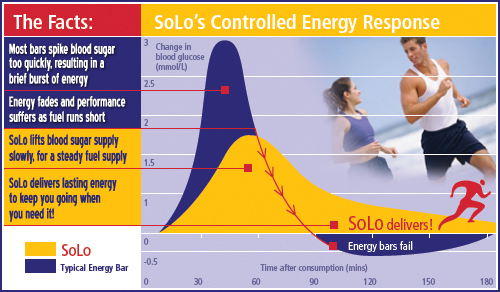 SoLo has been adopted as the fuel of choice by athletes in many different sports arenas; including numerous pro basketball teams, pro hockey teams, collegiate sports teams, and world-class Olympic-caliber endurance athletes. The word is quickly spreading throughout the sports community and the bars are selling themselves through word-of-mouth, while gaining traction and momentum for the following reasons:
?"Controlled Energy Response?Technology provides
o Sustained energy
o Enhanced endurance
o Consistent results
?Endorsement by numerous elite athletes
?Validated low glycemic (23-29) by University Researchers
?Antioxidants to promote cell recovery
?Balanced nutrition with all-natural ingredients
?No sugar alcohols, artificial sweeteners
?Good carbs, good fats, 11-13 grams of protein
?Best tasting bars on the market!
To help you achieve your fitness and lifestyle goals, SoLo's "Nutrition Triad? was created specifically to assist athletes and active individuals in designing and planning their own personal nutrition game plan. To do this we believe it is necessary to pay attention to three very important elements. Click on each item below for more information.
Whether you are a trainer, coach, or instructor - it is to your advantage to recommend a product which can give your athletes an edge. Whether it be for the great taste, long-term energy, or performance enhancement; you can't go wrong. You certainly can't argue with the long list of pros already using SoLo! If you interested in selling SoLo, please contact us at sales@solo-gi.com.
Home | Products | Why Solo? | Solo Athletes | My Sports | Purchase Solo
Company Info | FAQs | Nutrition Resources | News & Events | Health Professionals
Newsletter | Contact | Disclaimer | Terms & Conditions | Privacy Policy | Site Map