At SoLo, we want to make it easy for you to achieve your fitness and lifestyle goals.
SoLo's unique design and underpinning low glycemic science addresses the needs of professional athletes; but also those of weekend warriors, and sports enthusiasts in general.
SoLo was designed with YOU in mind - delivering great tasting, long-lasting energy together with all-natural ingredients and superior nutrition.
This unique combination is the magic behind the SoLo Power movement and the reason why SoLo is quickly becoming THE choice among bar users. Shouldn't you be SoLo Powered too? Read on to find out how!
SoLo can help YOU achieve your goals!
SoLo is the only very low glycemic bar on the market that has been validated by University Researchers, while containing superior, high-performance nutrition - providing you with sustained and long-lasting energy.
What this means is that you can feel rest
assured that you will not "bonk?half way through your morning workout, training run or endurance event. SoLo's unique design delivers energy slowly, as your working muscles need it - while sparing your precious glycogen stores at the same time.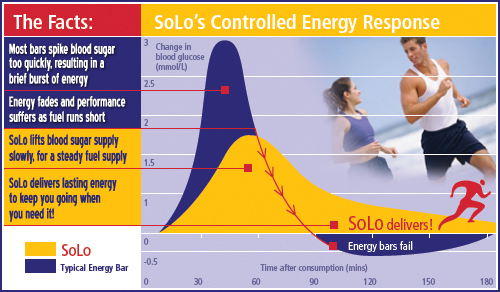 We invite you to become SoLo Powered for 3 simple reasons:
1. SoLo is preferred by PROFESSIONAL ATHLETES and sports enthusiasts
2. SoLo delivers long-term, controlled ENERGY
3. SoLo crushes the competition on TASTE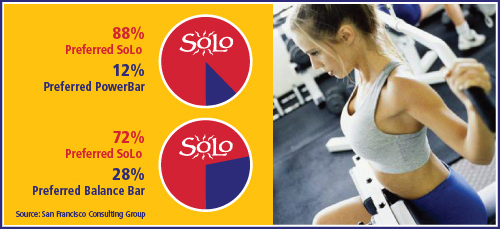 More Great Reasons to Choose SoLo!
Sustained energy, enhanced endurance - for consistent results!
Validated very low GI (23-29) by University Researchers
Antioxidants to promote cell recovery
24 vitamins & minerals
Good carbs, good fats, 11-13 grams protein
All-natural ingredients (no sugar alcohols, artificial sweeteners)
Compare SoLo to other popular fitness and energy bars
While other bars may offer a quick boost up-front, SoLo provides sustained fuel delivery for maximum performance while still meeting or exceeding other nutritional comparisons.