Solo bars are scientifically formulated to provide long-term and lasting energy through Solo's "Controlled Energy Response?technology.
SoLo has been validated very low GI (23-29) by University Researchers, to provide you with a reliable glycemic response for a competitive edge each time you open a SoLo bar.
Each bar contains a proprietary blend of all-natural ingredients; providing balanced nutrition together with slow-burning carbs, protein, dietary fat and fiber ?delivering energy slowly, while also enhancing satiety to keep you going for longer.
Click on a bar below for more information: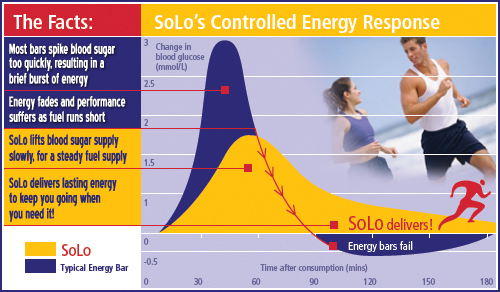 SoLo Benefits:
Excellent source of high quality protein (11-13 grams)
Antioxidants for rapid cell recovery
Excellent source of calcium
Good source of fiber (3-4 grams)
24 vitamins and minerals
No sugar alcohols, artificial sweeteners, high fructose corn syrup, artificial flavors or colors
Kosher
#1 for taste - best tasting bar on the market!
SoLo will keep you Powered for longer - whether you are in the midst of a championship game, on a long training ride, or before your morning yoga ?it's the bar to reach for (every time) to help you achieve your goals! Shouldn't you be SoLo Powered too?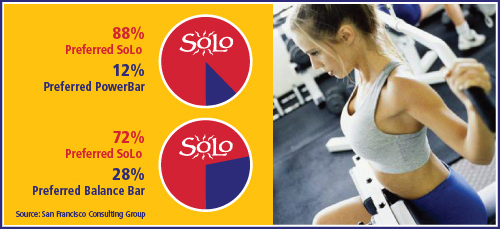 Independent tests confirm that SoLo bars are the best tasting energy bars on the market!
Home | Products | Why Solo? | Solo Athletes | My Sports | Purchase Solo
Company Info | FAQs | Nutrition Resources | News & Events | Health Professionals
Newsletter | Contact | Disclaimer | Terms & Conditions | Privacy Policy | Site Map